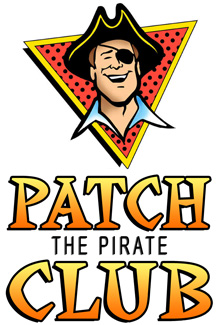 The Patch the Pirate Club and PeeWee Club are invigorating, Bible-based, character-building choir clubs for children ages four through eleven. These clubs have proven to be lifesavers by providing a modular approach to the age-old need for quality, organization, motivation, and consistency. Patch the Pirate will enable you to apply Bible principles that last a lifetime by teaching truth that goes straight to the heart.
With a special emphasis upon daily devotions and godly character, the club is developed as a weekly meeting with materials including:
Bible lessons
Exciting New Songs
Meaningful Stories
Music activity pages
Fun activity pages
Daily Devotionals
The Clubs meet Wednesday evenings at 7:30 p.m.  Join us!